Can you take care of mold yourself?
If you've never dealt with mold beyond mold on the grout in the bathroom, you're not alone. But there are many cases where mold is hidden from your eyes, and you can live with this pesky fungus without even knowing it's there.
While mold might seem like an easy task to remove, the truth is that mold removal isn't easy. In fact, many store-bought mold removal products are non-effective. However, it's important to remember that mold abatement is not a one-time process. Mold spores can quickly reform if the area is not kept clean and dry. As such, mold removal should be seen as part of a larger cleaning and maintenance routine.
Mold is something that is best left to certified mold remediation experts.
Mold can seem deceptively easy to clean up, but you might miss two important factors:
Mold hides, burrowing into porous materials, like wall panels and insulation, so wiping the surface won't take care of the mold.
If you don't take care of mold at the source, it will just come back again.
One thing is certain - if there's mold, there's moisture getting in somehow. It could be a dripping pipe, increased humidity, a leak in the roof. Regardless, the source of the moisture must be repaired first for mold remediation to be effective. Our expert team can take care of any remaining moisture, even by just dehumidifying the air to take out the excess water.
If you discover a mold problem, you need to get it taken care of right away.
9 Steps of Mold Remediation in Reston
Mold remediation is a crucial process that involves not only the removal of visible mold growth but also the elimination of mold spores and addressing the underlying causes of mold growth.
Our mold remediation process involves a series of steps to effectively identify and eliminate mold growth from a contaminated area. During each step our techs use personal protective equipment (PPE).
Initial Assessment: identifying the type of mold present and locating any potential sources of moisture or water damage.
Containment: sealing off the affected area using plastic sheets and utilizing negative air pressure machines or air scrubbers to filter and exhaust air outside.
Moisture Control: addressing the underlying cause of moisture or water intrusion that led to mold growth.
Mold Removal: removing mold-contaminated materials. This process may involve discarding porous materials like drywall, carpeting, and insulation that cannot be effectively cleaned.
HEPA Vacuuming: preventing spores from becoming airborne during the cleaning process.
Cleaning and Disinfection: cleaning all surfaces in the affected area using appropriate anti-fungal solutions.
Drying and Dehumidification: preventing any remaining moisture from promoting future mold growth.
Post-Remediation Verification: (optional)air sampling and testing to ensure that mold spore levels are within acceptable limits.
Prevention and Maintenance: inspecting regularly and consistent maintenance will help prevent future mold problems.
It's important to note that mold remediation procedures can vary depending on the severity of the mold infestation and specific circumstances.
What to do until FDP Mold Remediation of Reston Arrives
Turn off the HVAC to limit the mold's access to the air circulation system. If mold spores are dislodged through
Don't turn on fans in the area, even if it is mold that is not actively growing from a previous water damage incident. Mold spores are still present, and ventilation can disturb them and set them free into the air.
Don't try to wipe it away - this will release spores into the air.
Check the humidity. Humidity in the basement is very common in the summer months when air is hot and humid outdoors - when the air enters the basement - it can condense on the cooler surfaces.
Where Can We Help With Mold Remediation?
Here are some common places in the house where mold can be found and should be removed: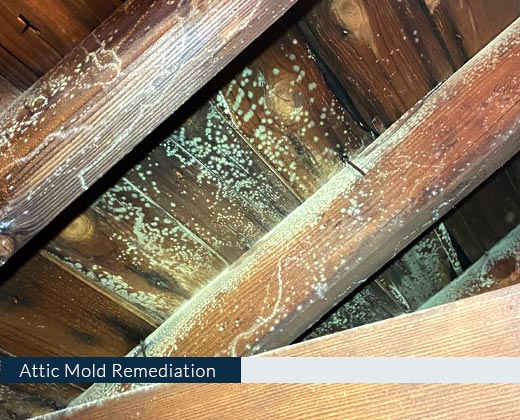 Mold in Attics
Attics are prone to mold growth due to poor ventilation, insulation issues, or roof leaks. Mold can develop on the underside of the roof, insulation, or any damp materials stored in the attic.
Bathrooms
Bathrooms, especially those without proper ventilation, are vulnerable to mold growth. Areas around showers, bathtubs, sinks, and toilets are common places where mold can thrive due to regular moisture exposure.
Kitchens
Kitchens can experience mold growth near sinks, dishwashers, refrigerators with water lines, or under leaking pipes. Mold can also develop on food items that have gone bad and have been left unattended.
Crawlspaces
Crawlspaces are prone to high humidity levels. These areas can lead to hidden mold growth.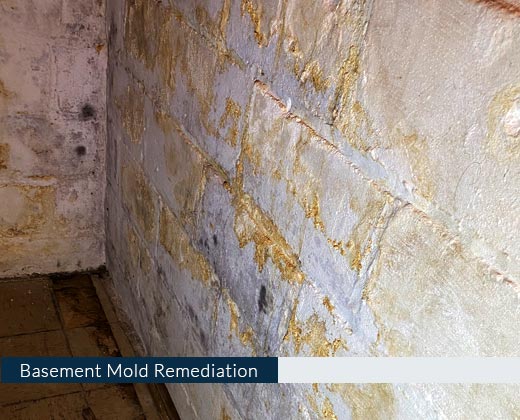 Basements
Basements are susceptible to mold growth because they tend to be more humid and have limited airflow. Moisture seepage through foundation walls, condensation, or flooding can create an environment conducive to mold growth on walls, floors, carpets, and stored items.
HVAC Systems
Mold can spread through the air ducts and HVAC systems if there is moisture buildup or contaminated components. It is essential to inspect and clean these systems to prevent the circulation of mold spores throughout the property.
Carpets and Upholstery
If carpets or upholstery have been exposed to moisture or have suffered water damage, they can become breeding grounds for mold. Professional cleaning or demolition may be necessary to eliminate mold growth.
Furniture and Personal Belongings
Mold can develop on furniture, mattresses, clothing, and other personal belongings if they have been exposed to excessive moisture or stored in damp areas.
Fairfax County, located in Northern Virginia, is not immune to the presence of mold in buildings and homes, which can potentially lead to mold toxicity for its residents. If you're searching for "mold remediation near me", don't panic! Our reliable and local team has got you covered! Don't let this pesky issue ruin your peace of mind and compromise your health. Call us! We're here to assist you every step of the way.
Choose Our Services from Local FDP Mold Remediation of Reston
At FDP Mold Remediation of Reston, our team of skilled professionals is committed to delivering exceptional mold remediation services that are customized to suit your specific requirements.
With our local presence in Reston, we possess extensive knowledge of the area's climate and prevalent mold issues encountered by homeowners.
Whether you have suspicions of hidden mold or visible mold growth, our experts employ advanced techniques and state-of-the-art equipment to conduct thorough inspections, effectively contain the mold, and eliminate it from your property. We prioritize your well-being by implementing industry-approved methods that prevent cross-contamination and minimize any disruption to your daily life. Contact FDP Mold Remediation of Reston today at 703-774-3369 to benefit from our dependable and professional mold remediation services that inspire trust.
Mold Remediation FAQs
When to Call a Mold Remediation Specialist?
A mold outbreak can cause all sorts of problems for you and your family, so one should deal with it as soon as possible. From irritation in the eyes to rashes on the skin, mold leads to several health issues. Furthermore, if you stay in the presence of mold for a prolonged period, you will suffer from mold poisoning. There is also a high chance of it to be fatal if not treated in time. Thus, call for help when you spot moldy patches or experience discomfort. Once you decide timely, you can opt for a reputable team of cleaners.
What to Expect During the Mold Remediation Process
Mold remediation becomes a necessity when the situation worsens. During the process, various mold remediation chemicals are used to get rid of the spores as well as the smell. Once the visible patches are cleared, experts look for any hidden mold. The cleaners make sure that there isn't any colony left unattended. Once the process is complete your home will be mold-free.
Is Mold Removal Expensive?
Mold removal is an extensive process compromising of cleaning, washing, and disinfection of a place. You might believe that it is expensive, but that is not true. Mold removal cost is economical and depends on the size of the contaminated area. Furthermore, one should keep in mind that living with mold is dangerous for your health and nothing is more valuable than life. To save yourself, you must make this necessary investment.
Can Mold be Completely Removed?
Mold causes multiple problems for your health and home, so you must have it removed. With the help of a mold removal team, you can get rid of all the mold in your home. Professionals make sure to remove all the mold, including hidden mold. If mold behind walls isn't removed, the problem will reoccur. To prevent mold in the house, keep your place ventilated and safe from water damage. When you take necessary precautions, you remain safe from harm.
Mold can seem like a real headache, but FDP Mold Remediation of Reston can take care of it safely, quickly, and completely. Call 703-774-3369 today for an immediate response.