Most Common Places You Can Find Mold
Plumbing or a roof that leaks along with flood damage and indoor humidity levels that are too high, without proper ventilation, are all contributors to mold problems. Unmitigated water and flood damage can produce mold growth in less than 24 hrs, according to the experts at nations health protection agency, the CDC.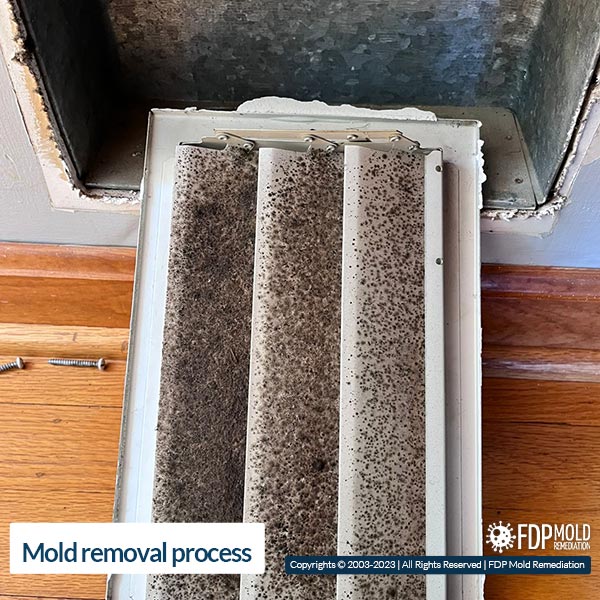 Anyplace that remains unventilated and damp is a breeding ground for mold. This includes primary plumbing arteries, walls with multilevel bathrooms, crawl spaces with drains, and anywhere water can travel. Faulty construction and incorrectly sealed tub enclosures can cause water to leak into crevices and create an invisible mold growth.
Mold Prone Areas:
Under carpeting
Windowsills and baseboards
Air-conditioning units
Plumbing in the walls
Behind or under refrigerators
Under bathrooms and kitchen sinks
Basements and cellars
Invisible Mold:
Behind wallpaper
Baseboards
Under tub enclosures
Rafters
Behind wall furnishings
Under flooring
The Difference Between Mildew and Mold
Mildew is a fungi-generated coating that likes to form on wet surfaces, it has a powdery gray or white appearance, and grows in a flat pattern. While mold is darker, usually green or black and permeates the surface, it's on. The professionals at FDP Mold Remediation of Potomac have certified mold remediation specialist with cutting-edge mold testing equipment to help you find mold problems before they get out of hand or cause serious health issues for your household.
Mold Assessment
If anyone in your house is experiencing allergy-type health issues and can smell the pungent odor of mold, it's time to call a mold remediation service and have it removed. Call or Google "mold companies near me" and have a mold test done. The company will send the samples to a lab and get a detailed report on species and mold levels in your home. At that point, a representative of the business will sit down with you and provide information on the severity of levels and offer solutions for your mold problems.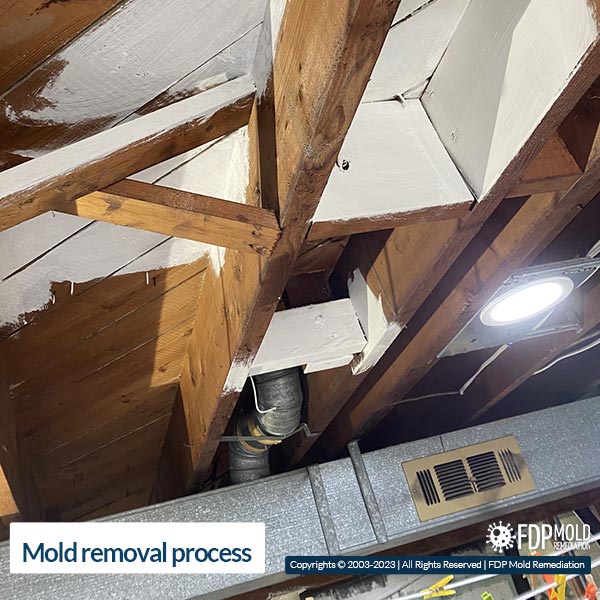 Steps of Our Mold Remediation in Potomac:
Inspection and Assessment.
Containment.
Mold Removal.
Cleaning and Disinfection.
Moisture Source Elimination.
Drying and Dehumidification.
Post-Remediation Verification.
In conclusion, our specialists follow a comprehensive process that includes inspection, containment, removal, cleaning, and prevention measures to effectively address mold issues. Our expertise ensures thorough remediation and restoration, creating a healthier environment.
Call our mold removal experts at 301-761-0171 for information about mold remediation cost.
The Best Mold Removal Company in Potomac
FDP Mold Remediation of Potomac is one of the best mold removal companies in the area. We use experts that contain the space with HEPA-filtration systems that use high-powered fans to create a negative air pressure environment, safely containing the mold manifestations while the residents can safely vacate the home during the abatement process. Safety for our customers is just as important as it's for their employees, by wearing mandated bio-security suits and PAPR certified chemical respirators.
We are a reputable business, and we have an outstanding community reputation with excellent customer service. We offer mold estimate, inspection, testing, and remediation. We are fully insured, certified, licensed, and our work is 100% guaranteed. Mold is a serious matter, and there's nothing more important than your health. Call FDP Mold Remediation of Potomac today and get professional service now! 301-761-0171
Mold Frequently Asked Questions in Potomac
What does indoor mold do to pets?
Mold can negatively affect pets in much the same way as it can harm humans. Symptoms such as difficulty in breathing, sneezing, coughing, skin complications, and allergies may occur in pets due to mold exposure. Persistent exposure can lead to serious health conditions. If you notice any health issues in your pets and suspect mold, it is advisable to seek veterinary advice promptly.
Is it harmful to live with mold?
It is not advisable to reside with mold due to its detrimental health effects. Mold exposure can cause issues like breathing problems, allergies, and a variety of other health concerns. Long-term exposure may even be more harmful. Addressing mold issues swiftly and seeking professional help for mold removal is crucial to maintaining a safe and healthy living space.
What are the indications of mold poisoning?
Mold poisoning, also known as mycotoxicosis, can exhibit several symptoms, including:
Feeling of exhaustion and weakness
Headaches
Breathing issues
Allergic reactions
Problems with memory and focus
Skin inflammation and rashes
Digestive issues
Symptoms resembling the flu
Neurological symptoms (in rare instances)
Will mold in a house disappear on its own?
Mold does not vanish by itself. It requires a moist environment and organic material to flourish, so unless the moisture problem is addressed, mold will persist and may even worsen over time. Proper mold remediation, which includes identifying and resolving the moisture problem, removing affected materials, deep cleaning, and prevention measures, is necessary. Consulting with professionals ensures appropriate mold removal and helps avoid future problems.